Air to Electronic Gauging
Air to electronic gauging makes it possible to perform dimensional and geometric checks without direct contact with the part to be measured.
Marposs can supply:
air plugs
air rings
air plugs and rings for HSK and ISO taper
air forks
air to electronic converters
a wide range of electronic gauging amplifiers
Operating principle
The air to electronic measuring technique uses a simple physical principle of transduction: a dimensional variation in the part to be measured is read as a variation in pressure, and the latter is transduced into an analog electric signal.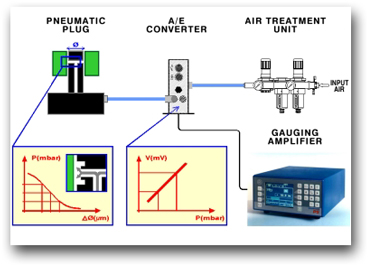 A suitable combination of various nozzles and their pneumatic supply makes it possible to carry out even complex measurements, ranging from simple manual solutions to automatic machines.
Because of the particular method with which the signal is processed, it is possible to obtain highly reliable and precise measuring solutions. Air gauging technology is sometimes more suitable for gauging mechanical components otherwise not easily reachable (e.g. deep holes with a small diameter).
The physical laws that regulate this phenomenon ensure accuracy and repeatability on all the measuring range. The Marposs air to electronic converter is extremely flexible and ensures complete adaptability to a wide range of applications.